Estonian government have (had?) a clear strategy: they want to have a national carrier. Estonia is a small market and national carrier gives benefits for country securing connectivity with most important destinations at good times and bad times.
Commitment for national carrier from government is amazing. At the end of 2015, EU ruled Estonian Air must return subsidies received from government what meant airline will go for bankruptcy. As EU bureaucrats are not known of surprise moves, Estonian government had some time to prepare for that and they did. In large scale.
One night of November 2015, Estonian Air declared suspending operations. And next day new brand appeared – Nordica. A new virtual airline, operating same routes on same schedules: wet-lease'ing aircraft from other airlines and using Adria Airways sales platform. Government placed investment of 40 million EUR to Nordica. 
Nordica developed further. Subsidiary "Regional Jet" got AOC and started own metal operations for Nordica. In November 2016, LOT Polish Airlines acquired 49% of "Regional Jet". Commercial cooperation was also part of a deal and Nordica switched sales platform from Adria to LOT. "Regional Jet" got additional business as they started to operate CRJ900 on ACMI for LOT too.
It looked road for Nordica was bumpy but developing. Nordica operated bunch of key routes from Tallinn.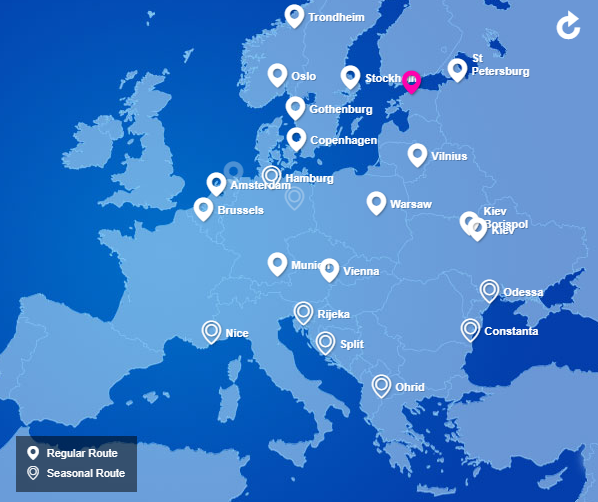 Challenge for Nordica: they faced a lot of competition mainly from airBaltic which expanded in Tallinn rapidly last few years. Next summer airBaltic will have 3 aircraft based in Tallinn. Until this year, airBaltic operated Amsterdam, Berlin, Paris, Vienna, and Vilnius. In 2018 Latvian airline launched London Gatwick, Oslo and Stockholm. For 2019 airBaltic announced flights to Malaga, Copenhagen, and Brussels. 
Still, it looked bright picture for Nordica. This July airline posted profit of 0,9M EUR in 2017 with passenger number growth by 68%. It is a small profit in airline business, but it is amazing result for small start-up in developing mode and fierce competition in home market.
But this summer signs of dark skies appeared for Nordica. Two key executives – CEO and CFO left company in first half of this year. Usually, it is a sign changes are coming up to companies strategy.
Changes are here – this winter Nordica is reducing operations dramatically.
Nordica downsized operations a lot. I mean A LOT.
Estonian national virtual carrier Nordica this autumn reduced their own scheduled operations a lot. From communication perspective, it was announced in several rounds and it doesn't look that dramatic, but total downsize is huge.
First of all, Nordica made announcement in beginning of October they will suspend routes from Tallinn to Kiev Zhuliany and Goteborg starting winter schedule.
At that time Nordica also reduced schedule for their Tallinn to Munich Airport route from 14x weekly to… 1x weekly. I think, this was a flagship route for Nordica. They operated double daily route to Munich hub without competition with Lufthansa codeshare with plenty of connecting options. Now route is almost cancelled – 1x weekly is more for ski-traffic in winter only, I believe route will be cancelled after winter.
Later, Nordica made second round of cancellations, when airline announced stop flying to Amsterdam, St.Petersburg and Oslo in January.
There is different story for all these three routes.
Tallinn to Amsterdam is historic Estonian Air route when they operated these flights in codeshare cooperation with KLM. But after Estonian Air collapse, KLM switched partnership to airBaltic and it was too difficult to compete for Nordica.
At the time of Nordica operation slot value at Schiphol increased dramatically. Schiphol reached annual number of operations in 2018, so no additional movements are allowed. Airlines who owns rights to operate are in beneficial position when landing slots have value. Slots work on principle "use it or loose it" so I am not surprised Nordica's commercial partner LOT Polish Airlines took these slots immediately. As Nordica flights are operated on LO callsigns, LO had opportunity to use it further on other route with same callsign, so they will add 4th daily Warsaw to Amsterdam flight from January 2019.
All flights of Nordica are being operated with LOT callsigns and commercial distribution is being done on LOT flight numbers. It was not possible to do that for flights between Estonia and Russia because of bilateral agreement between two countries. This is the reason Nordica operated single route Tallinn to St. Petersburg on their own callsign (EE) which created difficulties for distribution. I do believe this challenge was to big for Nordica and this is the reason they cancelled flights where airline faced no competition (not to mention bus competition).
At first, Nordica announced they will reduced frequencies on Tallinn to Oslo route, but later airline withdraw from the route completely. In October 2018, airBaltic started flights between capitals of Estonia and Norway. As there is also another competitor Norwegian on this route, I believe it was too much competition for Nordica.
On the third round of reduction announcements, Nordica confirmed airline will not resume few summer-only routes: from Tallinn Airport to Berlin, Hamburg and Rijeka. 
All these reductions leaves Nordica with 8 all-year round routes and 5 seasonal routes.
Nordica also reduced operations on another key route – Tallinn to Stockholm Arlanda. Operations will be reduced to 2x daily and its hard to believe they will be able to win competition. Nordica departs Tallinn at 7:20 and 13:30. Departures from Stockholm at 14:40 and 22:10. It is difficult to win love from business passengers when they have chance to choose from multiple daily departures from SAS and airBaltic. Not to forget – Norwegian also entered this route this autumn with 3x weekly flights.
It is not related to Tallinn hub, but Nordica also announced the closure of another set of its routes to/from Groningen Airport in the Netherlands. Flights will be withdrawn from Dec 28th, 2018. Nordica operated 2x daily to Copenhagen and 1x daily to Munich Airport. I do believe these routes where heavily subsidised with Groningen Airport and/or local authorities.
Interesting romance with SAS
Nordica has also weird love story with SAS. Historically, Estonian Air had strong ties of cooperation with SAS. SAS was a shareholder of Estonian Air, but after they left venture, Estonian Air remained as operator for key routes from Tallinn to Stockholm, Copenhagen and Oslo with SAS codeshare.
I have background to believe, Nordica expected SAS will cooperate with them after collapse of Estonian Air. But this haven't materialise: just a week after Estonian Air demise SAS announced they will operate flights to Tallinn themselves. Nordica reacted and suspended flights to Copenhagen for some time, but this spring they have resumed 11x weekly flights TLL-CPH in competition with SAS.
It became more interesting in 2017, when Nordica signed 6 years cooperation agreement with SAS: Nordica will operate 4 ATR aircraft for SAS on ACMI basis. Nordica is ACMI operator for SAS, but at the same time competitor on flights from Tallinn.
Here comes a real fun. In autumn 2018 SAS started to wet-lease CRJ900 from Nordica. This aircraft is mainly used … for SAS flights between Tallinn and Stockholm. Thats amazing: you come to Tallinn Airport early morning. There are two Nordica (technically, Regional Jet airline) CRJ900s departing Stockholm. One is operating for SAS, another for Nordica and both are competing! Real fun – aircraft are in hybrid Nordica/LOT livery.
airBaltic is expanding heavily
airBaltic clearly states they have a strategy to grow Riga hub, but also develop direct routes from Tallinn and Vilnius. Last few years airBaltic grew in Tallinn more than in Vilnius. Reason is clear: less LCC competition and weak key competitor – Nordica. I do see airBaltic went for a war to push Nordica out of the market.
airBaltic has strong codeshare partnerships to help on key routes performance. airBaltic is operating from Tallinn to Amsterdam (KLM codeshare), Paris (AirFrance codeshare), Vienna (Austrian codeshare). Airline also operates Berlin, Vilnius, London Gatwick (launched spring 2018), Stockholm (2x daily launched autumn 2018) and Oslo (also launched autumn 2018).
airBaltic already announced expansion plans for 2019: starting June airline will start flying Copenhagen (4x weekly), Brussels (3x weekly) and Malaga (2x weekly) on brand new Airbus 220s.
airBaltic is (or was) not competing only on two routes with Nordica: London and Paris + future route of Malaga. All other routes are in direct competition with Nordica.
What is next for Nordica?
Nordica will stay with small portfolio of routes from Tallinn. This winter Nordica is operating Tallinn to Stockholm, Vilnius, Copenhagen, Brussels, Kiev, Warsaw, Vienna and Munich only. I think, Munich will stop in spring.
Warsaw is not "real" Nordica route: it is operated on Nordica metal but I believe commercial risk belongs to LOT Polish Airlines. Nordica routes are operated on 4-digits flight numbers starting 81xx or 83xx, but TLL-WAW is numbered with LOT standard 3 digit flight number. LOT will upgrade service from Tallinn to Warsaw with 4th daily flight soon with early morning departure offered with plenty of connections via Warsaw Airport.
Nordica still plans several summer seasonal routes for 2019: Constanța, Nice, Odessa, Ohrid, Split, Trondheim. I'm not sure if all these routes really will operate in summer. Anyway, this is low frequency short seasonal routes not putting big impact for companies financials.
In September 2018 Nordica together with LOT had 30% of seats departing from Tallinn Airport, but after downsize of Nordica and growth of airBaltic Latvian carrier should become capacity leader in Tallinn Airport.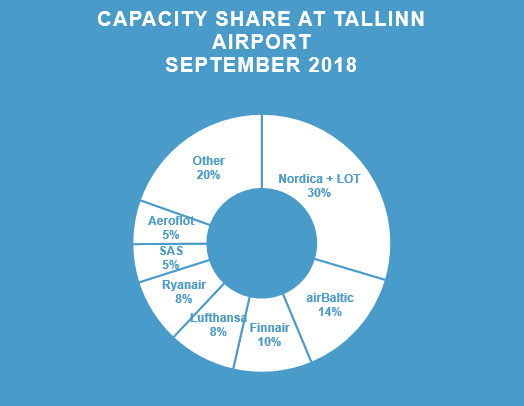 Nordica is working with subsidised routes. Company was awarded with contract in Sweden to operated scheduled flights from Arvidsjaur and Gallivare to Stockholm in September. There is also ongoing tender in Estonia to connect Tallinn with island airports where Nordica is competing with Airest, NyxAir and TransAviaBaltika.
Together with scheduled operations from Tallinn and domestic flights in Sweden, Nordica continues to operate ACMI flights for LOT Polish Airlines and SAS.
Maybe Nordica sees their future in ACMI and foreign subsidised activities – but why Estonian government should be involved in such airline as majority owner?